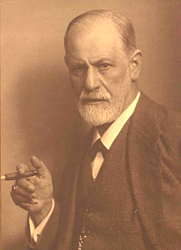 Sigmund Freud
[1856-1939] Austrian physician and pioneer psychoanalyst
"It would be very nice if there were a God who created the world and was a benevolent providence, and if there were a moral order in the universe and an after-life; but it is a very striking fact that all this is exactly as we are bound to wish it to be."
"In the long run, nothing can withstand reason and experience, and the contradiction religion offers to both is palpable."
"The whole thing is so patently infantile, so foreign to reality, that to anyone with a friendly attitude to humanity it is painful to think that the great majority of mortals will never be able to rise above this view of life."
"The idea of God was not a lie but a device of the unconscious which needed to be decoded by psychology. A personal god was nothing more than an exalted father-figure: desire for such a deity sprang from infantile yearnings for a powerful, protective father, for justice and fairness and for life to go on forever. God is simply a projection of these desires, feared and worshipped by human beings out of an abiding sense of helplessness. Religion belonged to the infancy of the human race; it had been a necessary stage in the transition from childhood to maturity. It had promoted ethical values which were essential to society. Now that humanity had come of age, however, it should be left behind." A History of God