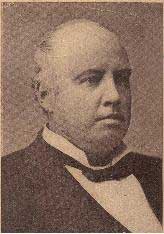 Robert G. Ingersoll
[1833-1899] Well known post civil war American political speechmaker and Secular-Humanist. Among his admirers were president James Garfield, poet Walt Whitman, General Ulysses S. Grant, industrialist-philanthropist Andrew Carnegie, inventor Thomas Edison, and Mark Twain.
"The good part of Christmas is not always Christian -- it is generally Pagan; that is to say, human, natural."
"Christianity did not come with tidings of great joy, but with a message of eternal grief. It came with the threat of everlasting torture on its lips. It meant war on earth and perdition hereafter." A CHRISTMAS SERMON. 1891
"Secularism is a religion, a religion that is understood. It has no mysteries, no mumblings, no priests, no ceremonies, no falsehoods, no miracles, and no persecutions." SECULARISM
"One of the foundation stones of our faith is the Old Testament. If that book is not true, if its authors were unaided men, if it contains blunders and falsehoods, then that stone crumbles to dust...The Old Testament must be thrown aside. It is no longer a foundation. It has crumbled." The Foundations of Faith
"An honest god is the noblest work of man. ... God has always resembled his creators. He hated and loved what they hated and loved and he was invariably found on the side of those in power."
"As people become more intelligent they care less for preaches and more for teachers"
"Why should I allow that same God to tell me how to raise my kids, who had to drown His own?"