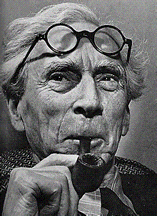 Bertrand Russell
[1872 - 1970] British philosopher, logician, essayist, and social critic, best known for his work in mathematical logic and analytic philosophy and was awarded the Nobel Prize for Literature in 1950. His essays include, "Am I an Agnostic or an Atheist?" and "Why I am not a Christian"
"Religion is based, I think, primarily and mainly upon fear. It is partly the terror of the unknown and partly, as I have said, the wish to feel that you have a kind of elder brother who will stand by you in all your troubles and disputes. Fear is the basis of the whole thing -- fear of the mysterious, fear of defeat, fear of death. Fear is the parent of cruelty, and therefore it is no wonder if cruelty and religion have gone hand in hand." Why I Am Not A Christian
"And if there were a God, I think it very unlikely that He would have such an uneasy vanity as to be offended by those who doubt His existence." What is an Agnostic?
"So far as I can remember, there is not one word in the Gospels in praise of intelligence."