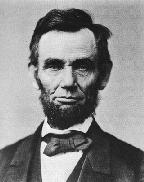 Abraham Lincoln
[1809-1865] American president
In 2000 Years of Disbelief by James A. Haught, Lincoln is mentioned on pages 125 through 127. From the material presented it would seem that Lincoln as a young man was an avid anti-christian and most likely an atheist. In his later years, he came to believe in God, but still was anti-religious in the sense that he rejected organized religion. Some selections from Haught: John T. Stuart, Lincoln's first law partner: "He was an avowed and open infidel, and sometimes bordered on Atheism...He went further against Christian beliefs and doctrines and principles than any man I ever heard."
"The Bible is not my book nor Christianity my profession. I could never give assent to the long, complicated statements of Christian dogma." Joseph Lewis quoting Lincoln in a 1924 speech in New York
"My earlier views of the unsoundness of the Christian scheme of salvation and the human origin of the scriptures have become clearer and stronger with advancing years, and I see no reason for thinking I shall ever change them." Lincoln in a letter to Judge J.S. Wakefield, after the death of Willie Lincoln
As a young man Lincoln apparently wrote a manuscript that he planned to publish, which vehemently argued against the divine origin of the Bible and the Christian scheme of salvation. Samuel Hill, a friend and mentor, convinced him to drop it, considering the disastrous consequences it would have on his political career. William H Herndon, a former law partner, wrote a biography on Lincoln titled: "The true story of a great life". In it Herndon discusses Lincoln's religious views extensively. Gordon Leidner has collected some quotations from Lincoln's later years in which he invokes God, and he makes the argument that Lincoln became a sincere believer. It seems to me he did come to believe in God, but he never accepted organized Christianity.
"You can fool some of the people all of the time, and all of the people some of the time, but you can not fool all of the people all of the time."
"It will not do to investigate the subject of religion too closely, as it is apt to lead to Infidelity." Manford's Magazine, quoted from The Religious Beliefs of Our Presidents by Franklin Steiner, p. 144.