Link to The Atheist Empire
PUT A BANNER ON YOUR SITE!
If your really, really like the Atheist Empire and would like to help
support us by putting a banner on your site.
About AE | Banners | Link to AE
If you know what you are doing choose a banner image below,
upload it to your site and link it to http://atheistempire.com
or you can copy the code below each image and past it into your web page.
Thanks for your support!
Websites that link to the Atheist Empire
Please wait for banners to load...
- 175 x 349 -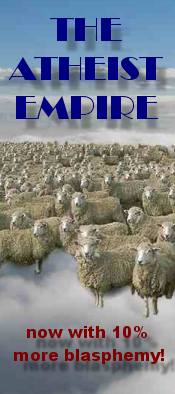 <a href="http://atheistempire.com"><img src= "http://atheistempire.com/graphics/banners/banner_sheep.jpg" width="175" height="394" border="0"></a>
- 175 x 329 -


<a href="http://atheistempire.com"><img src= "http://atheistempire.com/graphics/banners/banner_sheep2.jpg" width="175" height="329" border="0"></a>
- 175 x 233 -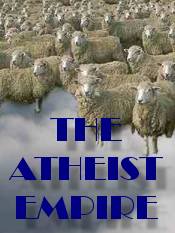 <a href="http://atheistempire.com"><img src= "http://atheistempire.com/graphics/banners/banner_sheep3.jpg" width="175" height="233" border="0"></a>
- 468 x 60 -


<a href="http://atheistempire.com"><img src="http://atheistempire.com/graphics/banners/banner-testimony-s.gif" width="468" height="60" border="0"></a>


<a href="http://atheistempire.com"><img src="http://atheistempire.com/graphics/banners/banner-faith2.gif" width="468" height="60" border="0"></a>


<a href="http://atheistempire.com"><img src="http://atheistempire.com/graphics/banners/trust-banner.gif" width="468" height="60" border="0"></a>


<a href="http://atheistempire.com"><img src="http://atheistempire.com/graphics/banners/banner-believe.gif" width="468" height="60" border="0"></a>
- 263 x 67 -


<a href="http://atheistempire.com"><img src="http://atheistempire.com/graphics/banners/banner_AE3L.jpg" width="263" height="67" border="0"></a>
- 234 x 60 -


<a href="http://atheistempire.com"><img src= "http://atheistempire.com/graphics/banners/bannerAE2.jpg" width="234" height="60" border="0"></a>

<a href="http://atheistempire.com"><img src= "http://atheistempire.com/graphics/banners/banner_AE3.jpg" width="234" height="60" border="1"></a>
- Flash -

<object classid="clsid:D27CDB6E-AE6D-11cf-96B8-444553540000" codebase="http://download.macromedia.com/pub/shockwave/cabs/flash/swflash.cab#version=6,0,29,0" width="234" height="60"> <param name="movie" value="http://atheistempire.com/graphics/banners/banner_matchup.swf">
<param name="quality" value="high"> <embed src="../graphics/banners/banner_matchup.swf" quality="high" pluginspage="http://www.macromedia.com/go/getflashplayer" type="application/x-shockwave-flash" width="234" height="60"></embed> </object>


<object classid="clsid:D27CDB6E-AE6D-11cf-96B8-444553540000" codebase="http://download.macromedia.com/pub/shockwave/cabs/flash/swflash.cab#version=6,0,29,0" width="234" height="60"> <param name="movie" value="http://atheistempire.com/graphics/banners/banner_testimonials.swf">
<param name="quality" value="high"> <embed src="../graphics/banners/banner_testimonials.swf" quality="high" pluginspage="http://www.macromedia.com/go/getflashplayer" type="application/x-shockwave-flash" width="234" height="60"></embed> </object>

- 175 x 45 -


<a href="http://atheistempire.com"><img src="http://atheistempire.com/graphics/banners/bannerAE2s.jpg" width="175" height="45" border="0"></a>


<a href="http://atheistempire.com"><img src="http://atheistempire.com/graphics/banners/banner_AE3s.jpg" width="175" height="45" border="0"></a>
You can also create text links to atheistempire.com
The following code creates this text link----> The Atheist Empire
Copy this code to your page:
---
About AE | Banners | Link to AE
Financial $upport